Tracking Speed Post Online
Check up speed post parcels & consignments status with our online speed post tracker tool. Our tracking service is totally secure as we are not storing any information or tracking numbers with us. Your last used items are stored on your system using cookies only.

EMS SpeedPost Tracker allows you to check the tracking and delivery information of your consignment by using the tracking number given to you during parcel / consigment booking.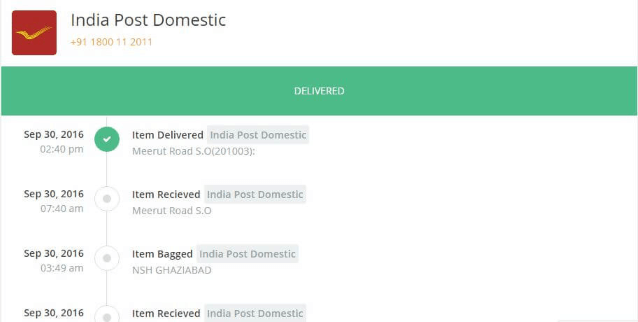 Speed Post Tracking Number Format
While tracking speed post please ensure that your are using correct number format to track your parcels
Where to find tracking numbers?
Tracking numbers can be found at receipt given to you at the Post office during the time of booking.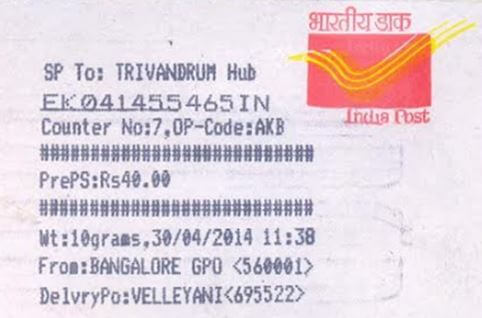 | | | |
| --- | --- | --- |
| Category | Format | No. of digits |
| Speed Post (EMS) Domestic | EE233456789IN | 13 |
| International EMS Artilces to be delivered in India | EE223256789XX | 13 |
| Electronic Money Order (eMO) | 000000000000000000 | 18 |
| Registered Mail | RX123456789IN | 13 |
| Express Parcel Post | XX000000000XX | 13 |
What type of items can be tracked using Speed Post?
International Tracking India Post
India Post Passport Tracking
Track Consignment India Post
Registered Letter
Insured Letter
Value Payable Letter
Insured Value Payable Letter
Registered Packets
Registered Periodicals
Registered Parcel
Insured Parcel
Value Payable Parcel
Insured Value Payable Parcel
Business
Business Parcel COD
Express Parcel
Express Parcel COD
Electronic Money Order (e-MO)
International EMS
Electronic Value Payable Parcel (eVPP)
Using SMS Speed Post Tracker
Find details about speedpost courier charges here.
India post also allows you to track your considnments through SMS tracking facility.
To track Speed Post article No.EE223456782IN
POST TRACK EE123456789IN (** send to 166 or to 51969 number )
In case you want to track e-MONEY ORDER (e-MO). You need to send SMS in below format to 166 or to 51969 number
POST TRACK 222256789123456789 (** send to 166 or to 51969 number )
Points to remember
The SMS is case sensitive. Use all CAPITAL LETTERS only.
Status will be available for items booked up to 60 days from the date of SMS enquiry.
The service is available from all the service providers in the Country.
Rates charged by the Service provider are applicable.
Speed Post Trends
Last Updated : Jan 16, 2017
Trending Topics : indian postal tracking, speed post courier tracking, postal tracking, speed post tracking passport, speed post status check up