Online Speed post tracking service to check up status of parcels & consignments. Our tracking service is totally secure as we do not store any information or tracking numbers with us. Please note that this is not India Post Tracking official website indiapost.gov.in. Tracking information is obtained from 3rd party sources.
How To Track Speed Post Status In India?
India Post Tracking service allows you to check the delivery information of your consignment easily.
Find and enter the Tracking Number / Ref Number given to you during parcel booking.
Press track button.
Tracking results will be displayed instantly at the below section.
If you want go to full screen mode, you can press "Open in new window" link.
Your privacy is fully protected. We don't store any tracking information.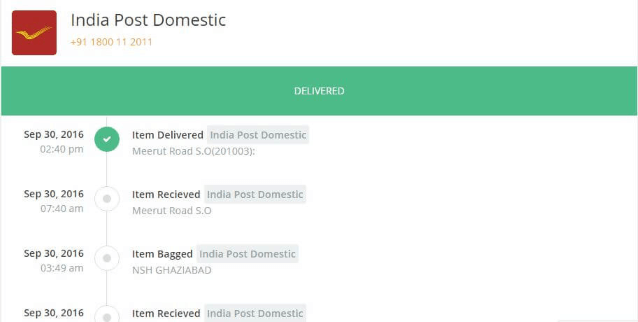 Speed Post Tracking Number
While tracking speed post please ensure that your are using correct number format to track your parcels. Tracking number formats for various type of parcels are summarized below :
Tracking Number Format

| Category | Format | No. of digits |
| --- | --- | --- |
| Speed Post (EMS) Domestic | EE233456789IN | 13 |
| International EMS Artilces to be delivered in India | EE223256789XX | 13 |
| Electronic Money Order (eMO) | 000000000000000000 | 18 |
| Registered Mail | RX123456789IN | 13 |
| Express Parcel Post | XX000000000XX | 13 |
Where to find tracking numbers?
Tracking numbers can be found at receipt given to you at the Post office during the time of booking.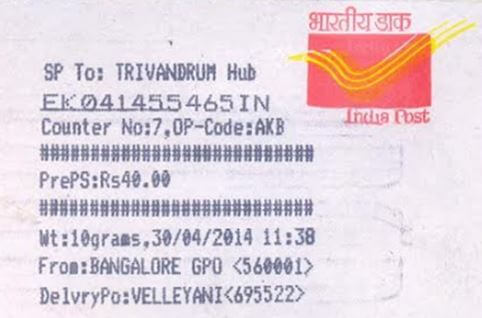 What type of items can be tracked?
Registered Letter
Insured Letter
Value Payable Letter
Insured Value Payable Letter
International Tracking India Post
India Post Passport Tracking
Track Consignment India Post
Registered Packets
Value Payable Parcel
Insured Value Payable Parcel
Registered Periodicals
Registered Parcel
Insured Parcel
Business
Business Parcel COD
Express Parcel
Express Parcel COD
Electronic Money Order (e-MO)
International EMS
Electronic Value Payable Parcel (eVPP)
Where for find India Post Customer care numbers?
Speed Post customer care call centres are available for all popular cities in India. In case of any query you can call customer care executives or can directly email them with details. Find speedpost customer care details here.
Using Speed Post SMS Tracking
India post also allows you Article tracking using SMS.
for example To track article No.EE223456782IN

POST TRACK EE123456789IN (** send to 166 or to 51969 number )
In case you want to track e-MONEY ORDER (e-MO). You need to send SMS in below format to 166 or to 51969 number
POST TRACK 222256789123456789 (** send to 166 or to 51969 number )
The SMS is case sensitive. Use all CAPITAL LETTERS only.
Status will be available for items booked up to 60 days from the date of SMS enquiry.
The service is available from all the service providers in the Country.
Rates charged by the Service provider are applicable.
Advantages of India Speedpost
SpeedPost is a reliable very courier service provided by India Post. This service was launched in August 1986 and it one of the best service among the services that offer assured fast delivery across the region. You can dispatch Letters, Parcels, Gifts, Documents, Articles and similar items in India but also across the world.
Affordable prices
Assured delivery, with compensation for lapses
Highly responsive attitude to customers
Delivery intimation/Status check
Fast and Time bound delivery
Global coverage
Online tracking facility
## India Post DOP Agents can login to Agent Portal from : DOP Agent Login
Department Of India Post also comes with many saving Schemes. Offered Saving Schemes are
Post Office Savings Account
5-Year Post Office Recurring Deposit Account (RD)
Post Office Time Deposit Account (TD)
Post Office Monthly Income Scheme Account (MIS)
Senior Citizen Savings Scheme (SCSS)​
​15 year Public Provident Fund Account (PPF​)​
National Savings Certificates (NSC)​
Kisan Vikas Patra (KVP​)
​Sukanya Samriddhi Accounts
sponsored links
Speedpost services are avaiblae in all popular Indian Cities like Gurgaon,Chennai, Bangalore, Mumbai, Delhi, Kolkata, Hyderabad, Patna, Nagpur, Lucknow, Jaipur, Pondicherry, Allahabad, Ahmadabad, Amritsar, Bhopal, Bhubaneswar Calcutta, Calicut Chandigarh, Cochin, Pune, Noida, Trivandrum, Madurai, Trichy and other cities as well.
Social Trends About Speed Post
Trending Topics : indian postal tracking, speed post courier tracking, postal tracking, speed post tracking passport, speed post status check up, India Post Tracking